Granite Quality
Quality is of prime consideration when sourcing our natural stone slabs. Granite is hewn from quarries in massive blocks which are then moved to a processing plant where they are cut, normally with bandsaws, into individual slabs (usually about 2m x 3m in size and either 20mm or 30mm thick). These slabs are then subject to a polishing process, during which one face is coated/sealed with resin to fill the inherent pits and to facilitate the final polishing, which removes any excess.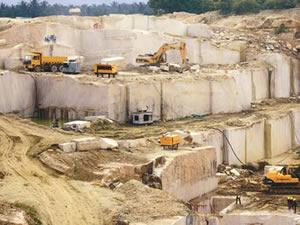 Direct representation from our offices in the UK and around the world then check and select individual slabs for importation to our UK facilities. Upon arrival at our warehouse we check all slabs again for any uncharacteristic imperfections, and check colour, colour density, shading and consistency to ensure they fall within our parameters specific to the material and colour type.
After release onto our factory, where we employ a range of equipment including CNC machinery, the cutting, surface and edge finishing operations are rigorously controlled to create a product that conforms to our exacting standards and meets the customer's requirements.
The finished granite product is sealed to ensure it is impervious to water absorption before delivery and fitting. Our many years of experience supplying and processing Granite have allowed us to guarantee satisfaction for all materials provided. Please contact us on 01909 730807 or e-mail us on enquiries@blythmarble.com.