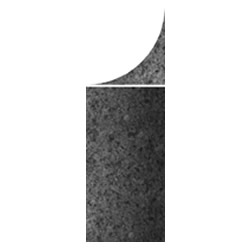 Cavetto Granite Skirting
(Italian) cavare: "to hollow", concave, quarter-round granite skirting profile sometimes employed in the place of the cymatium of a cornice, as in the Doric order of the theatre of Marcellus. It forms the crowning feature of the Egyptian temples, and took the place of the cymatium in many of the Etruscan temples.
A concave cavetto molding against the wall will produce a horizontal shadow that is darker at the top and lighter at the bottom, whereas a convex ovolo molding will cause the shadow to be lighter at the top and darker at the bottom.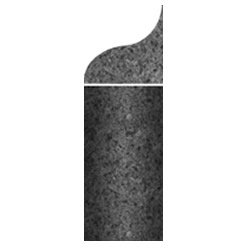 Cyma Granite Skirting
Granite skirting profile of double curvature, combining the convex ovolo and concave cavetto. When the concave part is uppermost, it is called a cyma recta but if the convex portion is at the top, it is called a Cyma reversa. The crowning granite skirting profile at the entablature is of the cyma form, it is called a cymatium. Two styles within the same granite skirting profile range providing an excellent choice for architectural applications, homes and corporate environments. Our manufacturing facility can offer bespoke granite skirting profiles to suit your order.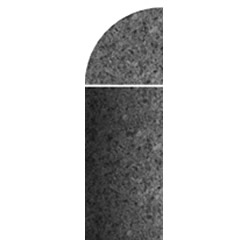 Ovolo Granite Skirting
Simple, convex quarter-round granite skirting profile that can also be enriched with the egg-and-dart or other pattern. A popular choice amongst domestic installations. Ovolo (or ovulo) in architecture, is a convex granite skirting profile known also as the echinus, which in classical architecture was invariably carved with the egg-and-dart ornament. The granite skirting profile is called a quarter-round by woodworkers. Not to be confounded with the "echinus" of the Dorian capital, as this was of a more varied form and of much larger dimensions than the ovolo, which was only a subordinate granite skirting profile.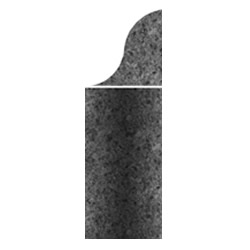 Ogee Granite Skirting
The ogee and Roman ogee profiles are used in decorative granite skirting, often framed between moldings with a square section. A popular choice amongst Architects. As such it is part of the standard classical decorative vocabulary, adopted from architrave and cornice granite skirting profiles of the Ionic order and Corinthian order. An ogee is also often used in the "crown granite skirting profile" frequently found at the top of a piece of case furniture, or for capping a baseboard or plinth, or where a wall meets the ceiling. An ogee granite skirting profile may be run in also plaster or wood, or cut in stone or brickwork allowing for integration with non granite materials.