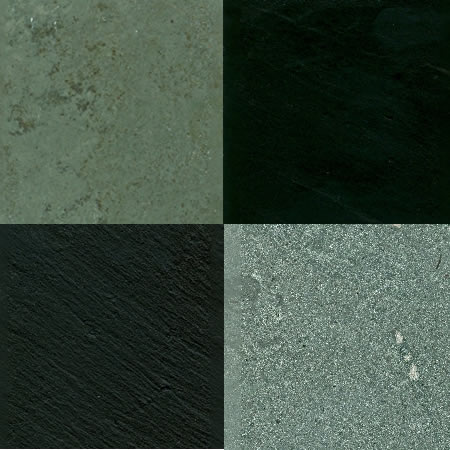 The very strong foliation found in Slate is called "slaty cleavage". In Slate this is caused by strong compression causing fine grained clay flakes to regrow in planes perpendicular to the compression. When expertly "cut" by our technicians by striking parallel to the grain, with our specialised machinery, many slates will form smooth flat sheets of stone which have long been used for roofing and floor tiles and other purposes. We can offer Slate for tiles in high volumes.
Slate is frequently grey, black or green in colour, especially when seen, as tile covering roofs. Slate occurs in a variety of colours even from a single locality for example, slate from North Wales can be found in many shades of grey, from pale to dark, and may also be purple, green or cyan. Slate is not to be confused with shale, from which it may be formed, or schist. Ninety percent of Europe's natural slate used for roofing originates from Spain where we have a dedicated supplier into the UK market place.
Types Of Slate
Brazilian Green
Italian Black honed
Italian Black Riven Slate
Savernake Green Slate
For more information on our range of Travertine and our cutting services please contact us on 01909 730807 or upload your project plans on our enquiry form.
Our range of Slate is available for you to have cut, polished and sized into a suitable application for your project. We have a dedicated facility which offers a large volume of stock. Our most popular ranges of Slate are Black and Green colour options. These are a popular choice for both roof tiles and flooring tiles in both domestic and commercial applications.