Why Choose Granite From Blyth Granite?
Founded in 1969 Blyth Marble have been a major importer and distributor to the UK Market for over 40 years. During this time we have steadily built up a reputation for quality and service while maintaining competitive prices.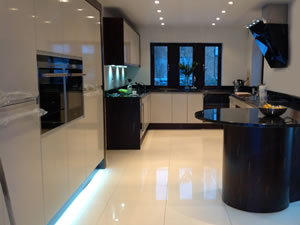 Our Warehouses in Worksop (Nottinghamshire) and Larkhall (just outside Glasgow) stock an extensive range of materials. We can also process stone offering edge profiles, shapes and sizes to suit your application. We supply Granite, Marble, Quartz, Limestone, Travertine and Slate to a wide customer base for many applications. Our years of sourcing the finest stone will ensure that you get the highest quality in both product and service. Call us on 01909 730807 or complete the enquiry form with your project details.
Granite, marble and other stone we supply is extracted from quarries around the world including every continent. Sawing, calibration and polishing carried out by modern sophisticated fully automated machinery at our large manufacturing facility based in the middle of the UK close to the M1. The image above shows just what can be done with a range of natural stone within a homely kitchen.