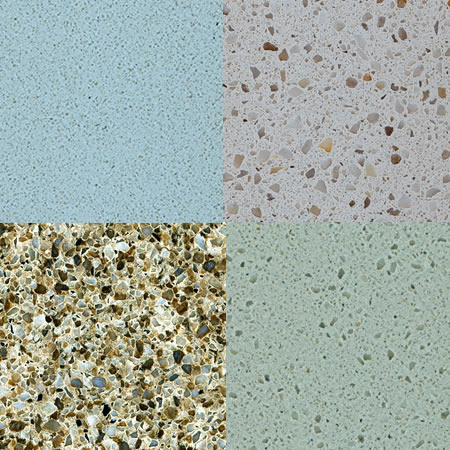 Our Quartz is sourced from Italy via Santamargherita who supply us exclusively within the UK. They have a dedicated website www.galaxyquartz.co.uk showing the latest Quartz stone products and gallery.
Italian because the true Italian nature is perceived in each product and company process. Made in Italy design and architecture is famous throughout UK for its excellence and unique style, which is why at Galaxy Quartz we have always paid scrupulous attention to product quality, innovation and reliability. Surface because Galaxy Quartz proposes constantly developing quartz agglomerates, which respond to all their clients' needs with numerous solutions to cover and decorate anything from a single home kitchen to large public works. Widespread availability has allowed Quartz to be a very popular choice for architects and individuals alike. In many cases Quartz is the material of choice for a durable hard wearing stone. There are many different varieties of quartz, several of which are semi-precious gemstones. Especially in Europe and the Middle East, varieties of quartz have been since antiquity the most commonly used minerals in the making of jewellery and hard stone carvings.
At Blyth Marble we have one of the largest stock ranges of bulk slab Quartz in the UK. Our two locations for distribution in Scotland and England are fed from supply chains across the world. Our Quartz range is vast offering many colour options and finishes for your commercial or domestic project. We can also advise you on the ideal combination for your project. Quartz is often a favourite choice of many architects being installed in many public spaces and prestigious building projects. Our expertise in the sourcing of Quartz is also offered to your project. Call us on 01909 730807 or upload your project plans on our enquiry form. We will process your enquiry within 24 hours. Applications of Quartz include Bar Tops, Cladding, Counters, Flooring, Kitchen Surfaces and Sills.
We offer a complete cutting and profiling services which also allows for a range of finishes. Finished include, polished, honed, leather, antique and satin. Call us to discuss your project in more detail.
Types Of Quartz
Chalcedony Quartz
Agate Quartz
Onyx Quartz
Jasper Quartz
Aventurine Quartz
Tiger's Eye Quartz
Rock crystal Quartz
Amethyst Quartz
Citrine Quartz
Prasiolite Quartz
Rose Quartz
Rutilated Quartz
Milk Quartz
Carnelian Quartz
Dumortierite Quartz
All of these finished will make your project stand out amongst other materials.